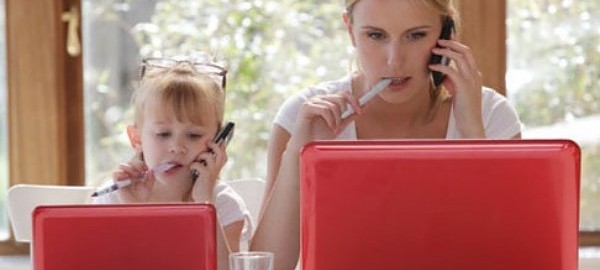 The reason you are working from home is so you can spend more time with your family, right? So don't feel guilty about scaling back your work commitments whilst the kids are off school. If they are old enough, ask your kids to help you to honour your commitments to your clients so you can give them time too. You might even find that they are willing to help you with your work if it means that you'll be able to concentrate on doing fun stuff with them. An example might be that they will give you quiet time in the morning (or even deliver brochures) if you'll take them to the pool in the afternoon.
Make sure you're really present when you're spending time with your kids. You can't be constantly interrupting your time with them to answer your phone or check e-mail. They'll recognise that you are only half there and resent it. Unplug and really give them your attention when you're spending time with them.
Train your kids to empty their school bags when they come home – notes from the teacher, party invitations etc in one place, dirty lunch boxes next to the sink. Have them lay out their clothes and prepare their soccer kit/choir books for the next day each night, so the mornings become less fraught. Sign permission notes and respond to party invitations immediately. Put the details in to your diary. Otherwise you run the risk of these important bits of paper being discovered in a last minute panic. If it is in your diary, you can plan for logistics.
Don't need to waste 30 mins trying to find a card and wrap for each party your kids get invited to, buy in bulk and have them stored and ready to go. Check out Phoenix Trading where you can buy online at sensible prices.
I share an online diary with my husband so he knows when he will be in charge of the children and I will have the car. This also helps me to prioritise – I put in all my family commitments and special occasions so I don't accidentally book an appointment with a clients on my anniversary (and yes I did do that before I learnt this important lesson!)
Don't run two diaries. It's a recipe for disaster!
Schedule time for calling/following up on new business during working hours. Laundry and cleaning can be done in the evening, but clients contact cannot. So don't try to fit these important calls 'in the gaps' in your schedule. You need quiet, daylight hours so you can concentrate. Trying to call from the pool whilst the kids are at swimming lessons makes you look unprofessional, and you usually can't hear properly anyway. (Another lesson learnt from experience!)
——–
Kirstin Crothers combines being a mum with being a stationery retailer. She's worked as everything from Ski Instructor to Conference Manager and is currently concentrating her efforts on building her Phoenix Trading business.
https://www.web4business.com.au/wp-content/uploads/2014/05/Workingmum.jpg
336
600
Ivana
https://www.web4business.com.au/wp-content/uploads/2013/04/Websites4SB_200.png
Ivana
2014-05-30 05:04:37
2018-12-12 06:12:48
Managing Your Time and Kids When You Work From Home