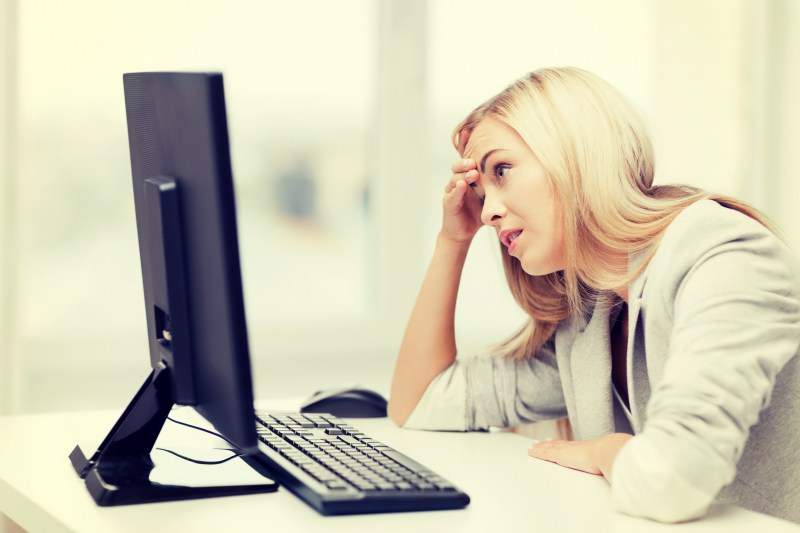 Most Common Frustrations People Have With Website Designers … And How To Overcome Them.
Getting your website designed can be a frustrating experience, not only for you, but for your designer as well. Having been at both ends of the process – as a designer and a client, I get that the process is not always easy. Here are some problems you may have experienced and solutions on how to overcome them
1. Your website designer's inability to convert your ideas into the perfect website.
This would have to be one of the biggest frustrations experienced by business owners getting online for the first time. It is important to understand that having a website designed is not like getting a brochure created. There are many variations that website designers have to take into consideration, such as ensuring the website:
Displays correctly on as many different browsers as possible, including Internet Explorer, Firefox, Safari, Chrome, etc (including older versions of those browsers),
Looks good not only on desktop computers with large monitors, but also on laptops, notebooks and smart phones.
Functions properly on all devices. For example, flash animations do not work on iPads and iPhones.
Navigation structure is properly set up
The website is not only visitor friendly, but also search engine friendly
The key to overcoming this frustration is to provide your designer with examples of websites that you like and more specifically what components you really want included on your site, eg. a specific type of background, special effects, graphic & image layout, number of columns, navigation type, etc. It is also helpful to show websites you do not like and clarify why.
Simply saying to your designer "I want a website that is blue and that has a lot of flair and pizazz" is probably not going to get you exactly what you want. Design is very subjective and what your designer perceives as having flair is most likely different to what your idea is.
2. Time it takes to get the website designed
Website design process can take time … designers have hundreds of fonts and millions of colours to choose from. There are many possible layout combinations, graphic components etc.
In most cases, the initial process to get draft layouts completed takes several days. Then depending on the amount of changes required to those layouts, it can take extra time.
Once the layout is finalised, the designer needs to code the site (do all the behind-the-scenes technical stuff) in order for the website to function properly. This can take a few days or even weeks, particularly if your website requires advanced functionality such as database management, shopping cart installation etc.
In most cases, what slows down the process is the client's request to make "minor" changes. Sometimes what appears as a "minor" change, is in fact more complex, as it can impact the look and/or function of the whole website.
To ensure your website is up and running as quickly as possible, talk to your designer and work out a schedule of what is going to happen and when. Agree on dates when:
You are going to provide a brief to your designer about the functionality and layout your require
The developer is going to supply the initial layouts
How long are changes going to take to those layouts
When are you going to provide text / images to be included on your site
How long is coding and testing going to take
It is also important to advise the designer if you are going to be away on holidays during the website development time or if you have any specific deadlines, such as launch of a new product etc.
Have a schedule in writing and adjust it if need be. Just like building a house, things occasionally crop up and delays happen, so be somewhat flexible and keep the communication open.
3. Time it takes to get changes made after the website is completed
Once your website has been live for a while and you have got some feedback or things have changed in your business or industry, you may find you need changes done. Unless they are major changes, generally your developer should be able to complete them within 3-5 business days. However, much will depend on their workload at the time.
If the changes are minor and you are not fussed when they are done, then it's no problem, but if you do need specific updates completed, it may be worthwhile to contact your developer ahead of time and alert them to expect those changes on a particular day. Let them know when you need them finalised, so he/she can work them into their schedule.
The other alternative is to get a content management system, which will allow you to update the website yourself. It may initially cost you more to have it set up and you will need to learn how to use it, but in the long run, it may save you time, money and frustration.
4. Having to pay more than what is initially quoted
Most website designers will provide you with a service agreement, which outlines exactly what you will get for your money, so make sure you read it before you sign it and ask your developer to clarify anything you do not understand. If you decide half way through the project that you want to have extra functionality added or the design changed completely, expect to pay extra. As I mentioned earlier, what may seem like a minor update, may in fact have impact on the whole website.
5. Additional expectations
Your website designer cannot read your mind and if you want something included as part of the design or functionality, it is important that you tell your developer upfront. Once your website is completed, saying "but I thought I could update the website myself" is not going to help you. Sure the designer can add extra features, but you will have to pay more.
6. Not coming up on top of Search Engines
A common request I get from first time entrepreneurs is to have their website come up on the first page of search engine results as soon as their site is launched.
The only way to do this is to run Pay Per Click marketing campaigns, such as Google Adwords, but there is almost no way that your website can rank highly in organic search results a week after it goes live.
Your website designer can include certain elements such as titles, headings, page names with your keywords in them, but those will only help slightly with how well you rank in search engines.
Please understand that search engines such as Google ask over 200 questions of each page before they deliver it to someone doing a search. Questions such as:
Does the search term appear in the title of the page
Is it in the heading and content of the website
Does it appear in the image alt tags
How many relevant websites link to this page
And many more.
Search engine optimisation process takes time – first you need to find the best keywords, ie. keywords that are searched often, but don't have a lot of competition and then you need to work them into your website and also build links from other websites to yours. I recommend you leave this to a specialist search engine optimisation company. Most web developers will be able to recommend someone reputable.
Unless the contract you sign with your website designer specifically includes search engine optimisation, don't expect your site to rank high when you first launch.
Getting a new website designed can be exciting and fun, but it is critical that you are clear with your expectations and communicate them to your web developer before you start. Do your homework prior to hiring someone – look at their previous work, check out their testimonials and perhaps even contact their previous clients. Also understand that your website designer has most likely been doing their work for a while and has some knowledge about what works on the internet and what doesn't. So listen to their advice, be flexible with your ideas and you will save yourself a lot of time and frustration.
______________________
Ivana Katz can get your business online within 7 days. If you're looking for a professional and affordable website designer, visit www.web4business.com.au and download a free website plan.