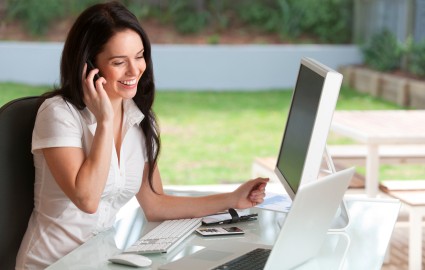 The date June 30 can mean chaos or calm depending on how well organised you are. If this year is already looking like chaos maybe it's time to consider ways for your office to work smarter as we head towards end of financial year.
Here are a few tips to create calm from Lan Nguyen from Success Accounting Group.
1. Check for missing receipts or documentation – these definitely cause stress and chaos
To create a calmer approach to 30 June; review all necessary receipts and documentation now so that you can present your accountant and the Tax Office with a complete set of documents to substantiate your claims and support your record keeping.
2. Review your financial positioning – If your profit and loss statements are unbalanced there's a very good chance you are too.
The difference between good bookkeeping and excellent book keeping is balance… in the numbers in your profit and loss and business and credit card bank accounts. Don't forget to check if the interest on the car hire purchase and business loans is separate from the principle. Are they fully reconciled and all transactions recorded accurately and completely? If not, go to point #1! This is the best time of year to do a stock take and write off any obsolete stock. Check the integrity of accounts receivable and accounts payable and write off any uncollectable debts before 30 June. If none of this makes sense – talk to your accountant A.S.A.P.
3. Xero, MYOB and Quick Books will bring you D.I.Y calm amongst the chaos … but they don't advise you on last minute strategies to reduce taxable income especially if your business profit increased substantially. This is when you need to book an appointment for a tax planning session with your accountant. A great accountant can steer you clear of penalties and other fees by making sure that you pay the correct amount of quarterly estimated taxes.
4. Check if your business passes the Small Business Benchmark test for your industry
Review your financial numbers to ensure they meet the small business benchmark for your industry. How well are you really doing against your competitors? You can locate your benchmark for your industry by going to the www.ato.gov.au. Your accountant should also have access to this information and can assess where you are positioned on the benchmark. If you are outside the ATO's benchmark, this would mean you have increased your risk of audit and review from ATO. So, it's best to conduct this benchmark test prior to submitting your returns to the taxman.
5. Evaluate if you have the right team to help you battle the chaos
What's your hourly rate? As part of your calm vs chaos battle, consider whether it would it be more profitable to spend the equivalent number of hours working on your own business than preparing your tax return yourself. Find an accountant that will be passionate about your success and make you feel inspired to build and grow your business. If your accountant is not like this, perhaps it's time to review your arrangements.
——–
Lan Nguyen is a Chartered Accountant with over 15 years experience in helping small businesses grow and build wealth. She is the founder of Success Accounting Group located in Mentone and Springvale South, Victoria. A forward thinking chartered accountants practice providing accounting & tax solutions for small business, Xero Training, income tax preparation and business start up advice and setup. Lan and her team of Success Accountants are passionate about inspiring and educating their clients on their journey of building their business and growing their wealth. They do so through online training videos, blogs, business and wealth growth tips.
https://www.web4business.com.au/wp-content/uploads/2014/06/EndofFinancialYear.jpg
282
425
Ivana
https://www.web4business.com.au/wp-content/uploads/2013/04/Websites4SB_200.png
Ivana
2014-06-05 23:44:39
2014-06-05 23:52:16
Tax – Chaos or Calm