How to Earn Money with Affiliate Marketing
With the recent world events, we have seen thousands of people lose their jobs and businesses, while others have thrived.
Businesses with strong online presence that deliver digital products and services, such as software, apps, courses, memberships and ebooks have done extremely well.  Also those offering to deliver quality and essential products have doubled or even tripled their sales.
Hopefully we never have to face another world pandemic again, however, there are many other life circumstances that can impact the running of one's business including:
illness
accident
changes in trends
changes in regulations
decrease in need for a product/service
so it is vital you future proof your business, should you need to or wish to take time out.
One of the easiest and fastest way to earn extra money through your website, social media networks or email lists is through affiliate marketing.
If you haven't heard of affiliate marketing, let me explain.
How Affiliate Marketing Works
You partner with a company that allows you to sell their products via an affiliate program
You recommend a product or service to your subscribers / followers / customers using a unique affiliate link
When someone purchases a product or service after clicking on your unique link, you get paid a commission.
Before I go any further, let me clarify one thing – affiliate marketing is NOT multi-level marketing.  If you want to find out more about the difference between these two business models, click here
https://affiliateroyale.com/2019/12/multi-level-marketing/
Benefits of Affiliate Marketing
Free for you to join
You don't need to carry stock or ship products or deliver services
You choose the companies you want to work with
You can promote as many companies / products as you wish
You do not need to provide customer support for products / services sold
Be your own boss and work when it suits you
Work from anywhere in the world
You can run it as part of your current business
Reach new customers
Gain more credibility by aligning with well known brands
What Businesses can use affiliate marketing?
Just about every business can add complementary products / services to their range.  Here are some examples;
Business Coach
Business related books
Business software
Internet services including webhosting
Business printing services
Computers & laptops
Mobile phones, calculators
Online marketing and business courses
Printers & cartridges
Stock photos and images
Website design services
Graphic design services
Accounting services
Hairdresser / Beautician
Hair products
Hair accessories
Cosmetics
Skincare
Image consulting
Books about skincare
Online courses
Wedding related products and services
Photographers
Wedding Planner / Marriage Celebrant
Honeymoon travel packages
Flowers
Cakes
Wedding invitation printing
Photographer & videographer
Bridal accessories
Gift registry
Jewellery
Hair and makeup
Wedding dresses and suits
Wedding venues
Children's Clothing Store
Toys
Books
Bikes
Children's furniture
Children's bedding
Games
Crafts
Children's movies and shows
Video games
Fashion & Beauty Blogger
Men's, women's & children's clothing
Makeup
Skincare
Jewellery & watches
Shoes
Online beauty tutorials and courses
Personal Trainer / Yoga Instructor
Exercise and fitness equipment
Athletic wear
Supplements
Sports footwear
Fitness trackers
Online training programs and classes
Insulated water bottles
Plumber & Electrician
Hardware
DIY and home improvement products
Tools
Building materials
Appliance parts
What companies offer affiliate programs?
There are thousands of companies that offer affiliate programs.  Here are some well known brands.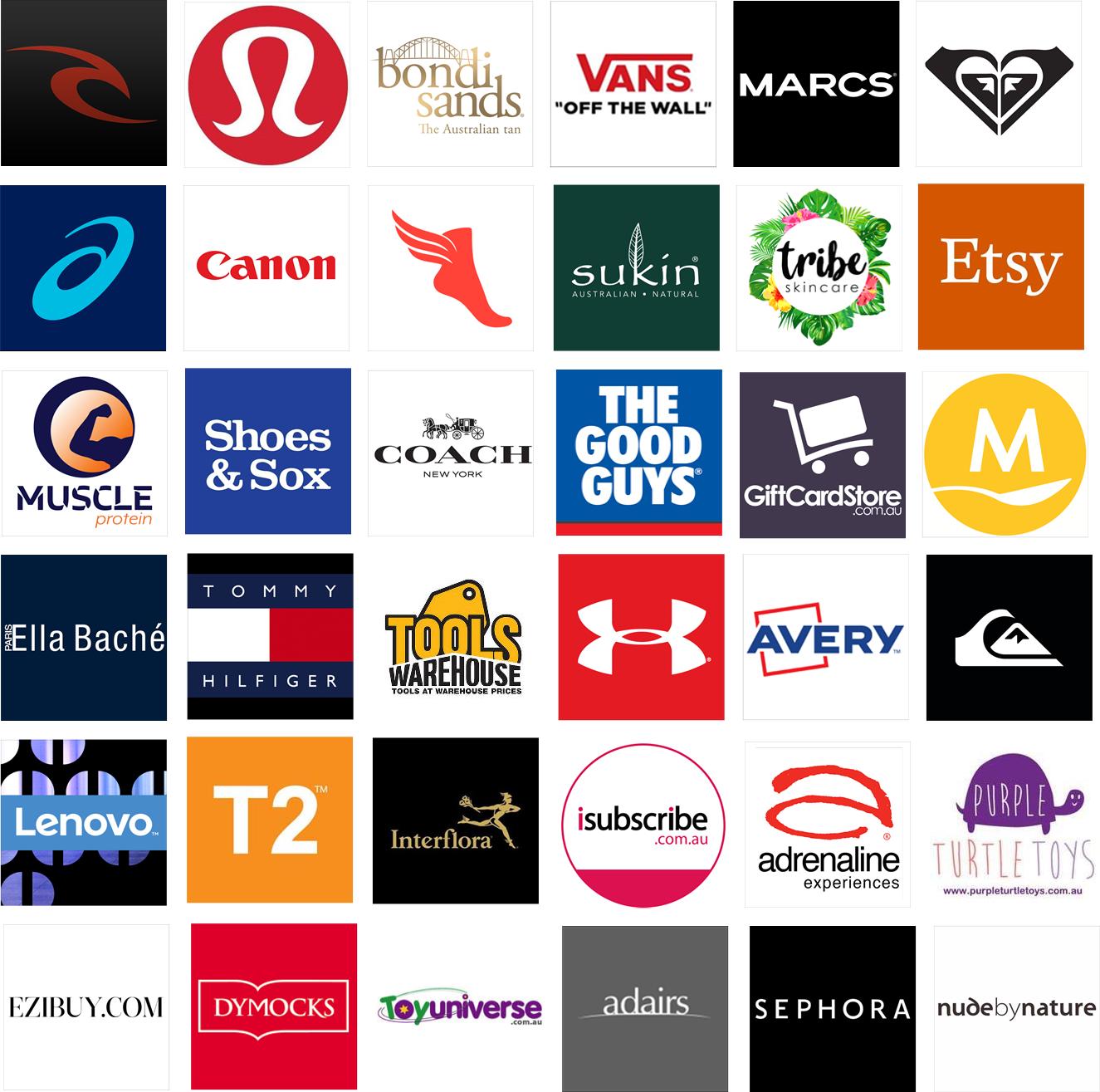 Where do I find companies who offer affiliate programs?
Many companies run their own affiliate programs and you can generally find these on their website.  However, there are many affiliate portals, that offer hundreds of different brands and products.
What product / service categories are available?
Baby Products
Online Business Products and Services
Cars and Bikes
Children's Games and Toys
Clothing and Fashion
Competitions
Daily Deals
Dating
Department Store
DIY and Home Improvement
Electrical
Entertainment
Finance and Insurance
Flowers and Gifts
Good and Drink
Gadgets
Health and Beauty
Holiday and Travel
Home and Garden
Internet Services
Jewellery and Watches
Learning and Education
Membership
Music and Equipment
Office Supplies
Personalised Gifts
Pharmaceutical
Software and Downloads
Sports and Fitness
Telecommunications
Weddings
Do I need to have a website to offer affiliate products?
Technically no you don't … you can promote affiliate products via an email list or your social network, but it is better you have your own website.
Most merchants will want to see your website before they approve you as one of their affiliates.
Also, you have much more control over your website than you do over social networks.  On your own site you can change content and add extra functionality at any time.
Whilst social networks are great marketing tools, your website should be the centre of your business universe and everything else should be linked to from there.
Most people don't realise the dangers of running a business directly from a social network:
You have very little control over who sees your posts.
If your social account gets hacked, it can be temporarily or permanently shut down and you could lose your whole business.
The social network can get shut down or people may stop using – for example Google Plus shut down despite having 198 million users.
How much do I get paid?
You can get paid anywhere between a few dollars to a few hundred, even thousands of dollars for each sale.  Most merchants pay a set amount or a percentage per lead, sale or sign up.
And some offer ongoing commissions, especially for digital courses and software.
How do I promote the products?
Many merchants will provide you with sales materials including emails, banners, coupons, data feeds, text links, widgets, videos.  You can then promote the products / services using these materials on:
Your website
Your blog
Guest articles/posts on other websites
In your email signature
Your mailing list
Social networks
How do I set up an affiliate program to sell my products/ services?
If you would like to get your own salesforce of affiliates who will promote your products, the easiest way to do that is to sign up for a Merchant account on one of the Affiliate Portals
Discover Best Affiliate Marketing Platforms – https://makeawebsitehub.com/affiliate-marketing-networks/
Where do I find the best affiliate programs for my blog?
If you have a business, personal or travel blog that you are looking to monetise.  Check out the following guide which shows you the best 55 affiliate programs for bloggers.
55 Of The Best Affiliate Programs for Bloggers 
How do I get started with Affiliate Marketing?
There are many entrepreneurs that teach affiliate marketing – some are great, others not so much.  One company I have found and would highly recommend is the Income School.  These guys teach you how to figure out the best business that suits your lifestyle and passion and then how to monetise it.  They have many resources and help to guide you to ensure the success of your business.
You may also be interested in: