How to Design a Killer Website In 14 Easy Steps
Designing a great website takes a lot of time and effort and you really need to understand how things work.
Many first time entrepreneurs attempt to create their own website, but because they lack online experience, their businesses closes as quickly as it opens. And it's not because their products or services are inferior – in most cases it is because they don't know how to market their business on the internet.
Simply putting up a one page website which tells visitors how great you are and how you use the latest technology or freshest ingredients is not going to get you any customers.
The truth is your website needs to be not only visitor friendly but also search engine friendly.
Let's look at each of these elements separately.
Making your website visitor friendly
1. Your website needs to be visually appealing. Choose 2 to 3 colours that complement your logo and stick with them throughout your website.
2. Simple is the new black, so keep special effects to a minimum. You can include an animation on your homepage, but do not feature it on every page, as it can be distracting.
3. Make sure you have a good navigation system so that your visitors can easily find what they are looking for
4. Ensure you prove your credibility. This can be done by including testimonials, before and after photos, details of industry associations you belong to, money back guarantee and details of any media appearances or mentions your business has had.
5. Capture your visitors' email addresses so you can keep in touch with them. You can offer them a free report in return for their contact details.
6. Don't forget to include call to action on your homepage. Tell your customers what you want them to do. Do you want them to call you, download a report or visit a special deals page? Make it clear where and how.
7. The content of your website should be updated regularly and contain all the information your potential customer may need to make an informed decision whether to buy your products or services.
8. Your website needs to look good not only on large monitors, but also mobile devices.
Making Your Website Search Engine Friendly
9. Your website needs to contain keywords that your potential clients may use to search your business. It is important that you research what words or phrases people are using – in many cases it's not what you think. For example, an airline CEO may believe their customers would use the phrase "inexpensive airfare to Hawaii", when in fact, their customers use "cheap flight to Hawaii".
10. You will find many online tools that can help you with this research. Some of these tools are listed below
11. Ensure you include the keywords, not only in the content of your document, but also in the URL of your webpage, in the description, in the page title, in your image alt tags and in headings.
12. Link your website to your social networks and be active on those networks. Search Engines such as Google watch your social media activity and websites who have active social networks tend to rank higher.
13. Include a sitemap on your website, so the search engines can easily crawl and index your site.
14. Search engines continue to evolve and are becoming smarter, so trying to trick them in any way is not advisable. If you try to fool them, you may get a temporary increase in your ranking, but pretty soon they will catch on and may drop your rank and also blacklist you.
As you can see, creating a great website is not as simple as it may seem. It takes a lot of time and effort to design and manage.
Instead of struggling with the process, you are better off to hire a reputable website designer, so you can concentrate on what you do best.
*****
by Ivana Katz
Websites 4 Small Business – www.web4business.com.au
Learn to Design – www.learntodesign.com.au/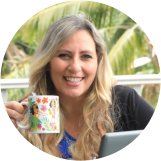 You may also be interested in: