Small Business Website Design Costs
How Much Will It Cost To Design a Website?
For most small businesses, expect to pay between $1200 to $3000 if created by a professional website designer.  There are many elements that affect the cost of a website including the website platform, size of the website and the functionality.  In reality, building a website is similar to building a house.  
What you can expect to pay for a small business website
| Service | Cost |
| --- | --- |
| Domain Name | $45 – $140 per year |
| Webhosting | $10 – $150 per month |
| SSL Certificate | $50 – $300 per year |
| Website Design and Development | $1200 – $3000 |
| Memberships / Plugins | $0 – $300 per month |
| Copywriting | From $500 |
| Marketing | $0 – $10,000+ |
| Tech Support / Maintenance | From $100 per month |
What determines the price of a website
There are 4 decisions you will need to make which will impact the cost of the website:
1. The website builder / software / platform
This is an important decision as it will have impact not only on the cost, but the functionality.
You have many choices when it comes to website builders. The main players include:
WordPress
Shopify
Wix
Weebly
Squarespace
My recommendation is self-hosted WordPress, as it gives your business the flexibility to grow.  It is the most popular website platform currently being used with over 450 million websites.
Learn more about each website builder including their pros and cons.
2. Hire a professional website designer or do it myself
This will also have a big impact on the cost of the website.  Here are options for you to consider.
Hire a local website designer
Pros
Knowledge of local market
Understands website design trends and security
Able to design more advanced websites including shopping carts
Can help with website marketing and search engine optimisation
Troubleshoot and fix up problems
Fluent English so no language barriers
Cons
Costs more than offshore developer
Get it done offshore
Pros
Cons
Cultural and work ethic differences
Difficult to manage from afar
Language barriers
Time differences
Lack of local market knowledge
Limited technical support
Ask your nephew / friend to build it
Pros
Cons
Little design experience
Need to heavily supervise design and set up
Limited technical knowledge
Limited security knowledge
No marketing experience
Limited search engine experience
Do It Yourself
Pros
Save money
Have creative control
Sense of accomplishment
Cons
Need to learn how to use the software
Figure out what to include on the website
Manage all related technology including installation and set up Integrations
Ensure the website is secure
Create and source all images and graphics
Troubleshoot any problems
3. Number of pages it includes
There are many pages that you can potentially include on your website.  However, the most important pages include:
Home
Products (one page per product)
Services (one page per service)
FAQs
Case Studies
Blog / News
About
Contact Us
Terms & Conditions
For additional pages you might want to consider including on your website, check out The Most Important 25 Pages You Need to Include On Your Website.  
4. The functionality it has
Many business owners use their website as an online brochure only, but there are so many other things your website can be used for including:
Selling products – digital and physical via an online store
Selling affiliate products and services
Collecting email addresses to build a mailing list
Booking appointments in different time zones
Running online courses
Providing automated quotes
Running a competition
Accepting registrations for classes / workshops / seminars
Collecting details from a survey
Displaying information from your social networks
Chatting with customers in real time
Giving customers opportunity to provide feedback
Selling other people's products and services via affiliate programs
Getting paid for displaying ads from other businesses as well as Google ads
Running membership programs
Storing important reports / whitepapers / marketing assets
Accepting payments from customers
Acting as landing pages for marketing campaigns
Since WordPress is the most popular website design platform, we will focus on pricing for a WordPress website.
Costs you may need to pay
1. Domain Name
Domain name will depend on the type of domain name – some domain names are more expensive than others, but generally speaking you are looking anywhere between $45 – $140 per year.
2. Webhosting
There are great variations on hosting prices.   Just with anything else, you get what you pay for. If you find a company that offers webhosting for less than $150 per year, chances are your website will be on a server with thousands of other websites and will most likely very slow to load.
Also tech support is generally minimal or via email only.
For the majority of small businesses, you can get decent shared hosting from $25 per month.
3. SSL Certificate
An SSL (Secure Sockets Layer) certificate is a digital certificate that authenticates the identity of a website and encrypts information sent to the server using SSL technology. Encryption is the process of scrambling data into an undecipherable format that can only be returned to a readable format with the proper decryption key.
The cost of SSL Certificates varies between $50 – $300 per year
4. Website Design & Development
How much your website design will cost will greatly depend on the size and functionality.
A 5-10 page informational website will generally cost between $1000 – $2500.
An ecommerce website (one that sells products) generally costs between $2,500 – $10,000, depending on how many products you have and the complexity of the set up.
If you require additional functionality such as:
integrating an online course,
setting up a membership portal,
email automation and nurturing,
livechat set up etc
can add several hundred to several thousand dollars to the cost.
You may save a few hundred if you get the website done offshore, but more often than not saving a few hundred dollars initially will cost you a lot more in lost time and revenue.
5. Memberships / Plugins
Even if you get a professional website designer to create your website, you may also need to pay membership or plugin costs, which can be one off or recurring charges.
Although many companies offer free versions, these are generally very limited.  So depending on the membership level and service provided – you can be paying between $10 – $300 per month.
Here are some examples of plugins / memberships you may wish to consider:
Online Course
LearnDash – From $199
LearnPress – Offers free version
Membership Platforms
MemberPress – From $129 per year
MemberMouse – From $29 per month
E-Commerce
WooCommerce – Offers free version
BigCommerce – From $29 per month
Email Automation
GetResponse – From $15 per month
Mailchimp – Offers free version
Appointment Booking
vCita – From $19 per month
Calendly – Offers free version
Online Chat
LiveChat – From $16 per month
ChatBot – From $42 per month
Event Booking
Event Manager – Offers free version
WP Event Manager – Offers free version
6. Copywriting
If you don't feel confident in writing the copy for your website, you may want to consider hiring a professional copywriter.   Cost will depend on how many pages you will need.  A good copywriter will cost from $1000+.
7. Marketing
Once your website is built you will need to set a budget for promoting it and that can run from several dollars per day if you are running Facebook or Google ads – to several hundred per month for search engine optimisation and content building.
However, there are many free ways to promote your website.  Check out 12 Proven Ways You Can Easily Promote Your Business for Free.
8. Tech Support / Maintenance
Many designers and developers offer tech support / maintenance packages, which means you are paying for x hours each month of their time to help you update your website, upgrade it or to recover it if your website stops working or gets hacked.
Cost is generally from $100 per month.
How do I create a website for free?
This is something that gets searched by thousands of people every month and if you are looking to build a personal blog or family website, then check out:
However if you are looking to build a business website, I highly recommend you use WordPress and get a professional website designer to do it for you.
We are at over 1.8 billion websites and thousands of new sites are being created every month.
What that means for your business is that you have a lot of competition and people's standards in what they expect to see are a lot higher than what they once were.
If you don't have website design skills and decide to build the website yourself or get your 16 year old nephew to do it for you, it will end up costing you in the long term.
People will judge your business by your web design skills and if your site doesn't look professional, your visitors will assume your products and services are inferior.
If you would like to discuss your business, book a free website strategy session.
Small Business Website Design Packages
To make it easier for you, we have put together a number of website design packages.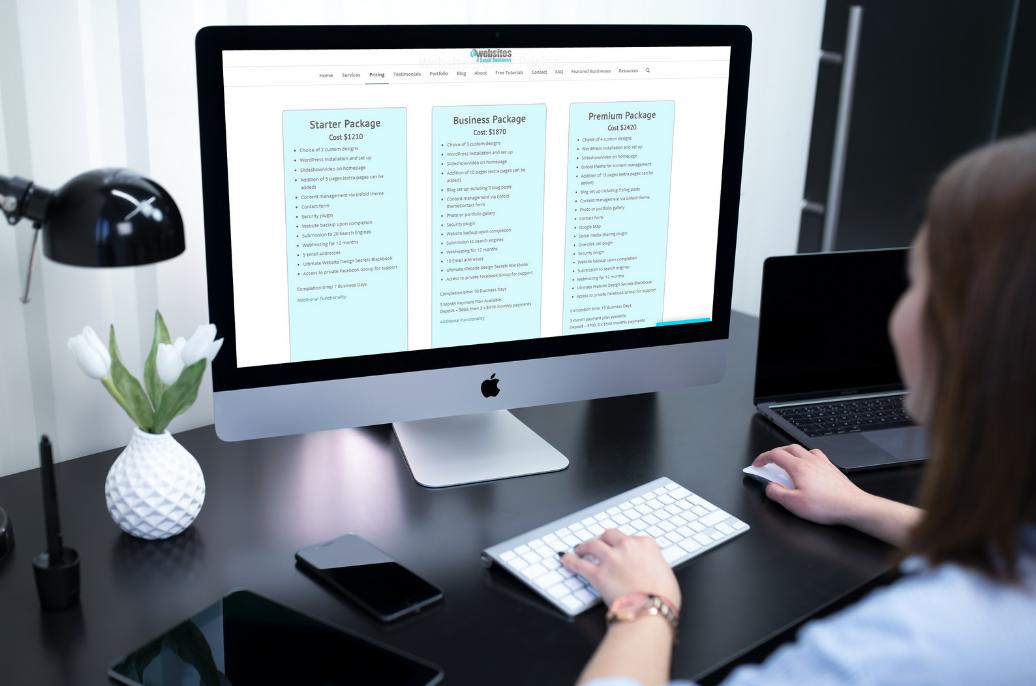 Starter Package
Cost: $1210
Choice of 2 custom designs
WordPress installation and set up
Slideshow/video on homepage
Addition of 5 pages (extra pages can be added)
Content management via Enfold theme
Contact form
Security plugin
Website backup upon completion
Submission to 20 Search Engines
Business Package
Cost: $1870
Choice of 3 custom designs
WordPress installation and set up
Slideshow/video on homepage
Addition of 10 pages (extra pages can be added)
Blog set up including 3 blog posts
Content management via Enfold themeContact form
Photo or portfolio gallery
Security plugin
Website backup upon completion
Submission to search engines
Premium Package
Cost: $2420
Choice of 4 custom designs
WordPress installation and set up
Slideshow/video on homepage
Enfold theme for content management
Addition of 15 pages (extra pages can be added)
Blog set up including 5 blog posts
Content management via Enfold theme
Photo or portfolio gallery
Contact form
Google Map
Social media sharing plugin
One click call plugin
Additional Services
Website Audits
If your current website is not working, we can provide you with a website review report, which addresses issues such as:
How visitor friendly your website is
How professional does it look
What calls to actiondoes it have
Is there design consistency
Credibilityand trust icons
Is there sufficient content
How search engine friendlyit is
Are there any security issues
Find out more about website audits.
Website Design Coaching
If you want to create your own website, we offer web coaching.  These can potentially save you weeks even months of trial and error.
Some of the things we cover include
Registering the right domain name
Choosing a reliable webhosting company
Selecting colours and fonts for your band
Getting a logo created
Gathering information for your website
Installing WordPress
Choosing a theme and installing it
Adding text, images, slideshows, videos, photo galleries and maps
Installing and configuring plugins for additional functionality
Adding Google analytics
And more
Pricing for web design coaching are as follows:
1 hour session – $110
3 x 1 hour sessions – $297
5 x 1 hour sessions – $495
10 x 1 hour sessions – $890
Find out more about website design coaching including what you can expect to achieve in 1 hour session, 3 hour sessions, 5 hour sessions and 10 hour sessions
Other things we can help with
Domain name registration
Webhosting
Logo Design
PDF Report Design
Landing Page Design
Ecommerce Set Up
Locate Stockists / Store Locator
Online Course Set Up
Membership with Online Payments Set Up
Email Integrations
Clickfunnels Integration
WordPress, Plugin and Theme Upgrades
Website Backups
WordPress and website update training
Addition of plugins such as Media Sharing and One Click Call
Appointment set up
Improving website load speed
Integrating Instagram feed
Learn more about pricing for other digital services.
Today's online visitor is savvy and will judge your business by what he or she sees in the first 3-5 seconds, so it's important you make the first impression count! Hire a professional website designer to ensure your business has the best possible start.
Don't look at what you spend on getting a professional website designed as an expense, but rather an investment in your business. If done and marketed correctly, your website can generate thousands of dollars in sales every day.
You may also be interested in: