Shopify vs WordPress: Which Is Better for Ecommerce?
As the world continues to successfully reap the most from online shopping modules, eCommerce has become the most natural business option for today's entrepreneurs. If you are thinking of being a part of eCommerce as well, then there's a good chance that you've already come across Shopify vs. WordPress debate.
In the world of ecommerce, Shopify and WordPress are two masterpiece brands with a reputation of flexibility, simplicity, and amazing performance. While both platforms allow you to build successful online stores, they are severely different from one another.
After all, Shopify is exclusively an eCommerce platform, while WordPress is a very capable website builder that can take the shape of any virtual business store an entrepreneur would ever want.
This article breaks down the main distinctions in set-up, app support, ease of use, and design capabilities for both Shopify and WordPress to help you find which is better for your eCommerce start. Let's look at both of the options in closer detail.
Shopify vs. WordPress Overview
Before we get down to the important aspects of the Shopify vs. WordPress duel, let's learn about the key differences between them. Shopify is a closed source hosted website builder, dedicatedly designed as an eCommerce platform.
Being a closed source program, Shopify handles the entire maintenance and coding of the platform on its own. It's a software-as-a-service (SaaS) tool that charges users monthly subscriptions to access.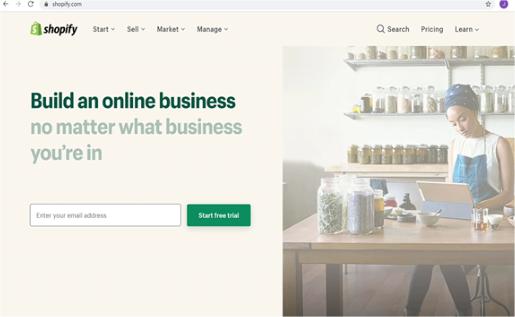 What makes Shopify great for eCommerce is the fact that Shopify is one of the few platforms exclusively made for ecommerce. It is a comprehensive commerce solution, well-equipped to provide business-oriented tools. For instance, an eCommerce website builder, order management tools, inventory, and direct affiliations with online sales channels.
WordPress on the split hand offers two core services: WordPress.org and WordPress.com. While the aforementioned is a SaaS tool just like Shopify, WordPress.org is a self-hosted, open-source software solution.
Though the software doesn't charge like Shopify, you are required to purchase WordPress hosting from a third-party provider. After purchasing hosting, you are then just one installation aways from starting to manage WordPress yourself.
Unlike Shopify's built-in pro commerce functionalities, WordPress doesn't come with a commerce solution. To get a grip, you'll need to install a separate plugin. In this case, WooCommerce is one of the most recommended WordPress eCommerce plugins.
It is a highly adaptive tool that houses almost all the features required for an online business. Check the WooCommerce vs. Shopify comparison guide from an Ecommerce CEO.
Shopify and WordPress Set-Up
To start with Shopify, you simply need to sign up for the free tier and in just a matter of minutes, you'll be provided with new mission control to control your business.
Shopify will first welcome you with an intuitive user interface. From the very beginning, users are allowed to customize their platforms' theme, start adding products, set up value, and more. Shopify also helps you purchase a domain name to keep things straightforward.
WordPress stands on the same level when it comes to intuition but its setup procedure requires a bit more from your side compared to Shopify. To start, you'll first have to purchase a third-party-driven domain and web hosting setup followed by installing WordPress, and then finally log in.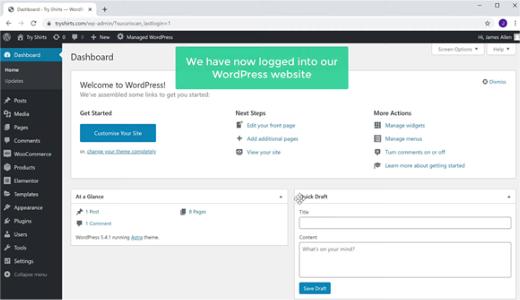 Though the WordPress dashboard looks a bit empty in comparison to Shopify's, it serves as a perfect blank canvas providing a great opportunity for entrepreneurs to build whatever type of website they want. Consequently, users need to utilize third-party plugins for almost everything, even SEO, and security.
Apps and Plugins
WordPress and Shopify, both have their own app libraries, broadening your opportunity to make the most out of third-party apps. This way, users can design any functionality they prefer inducing with their virtual selling businesses.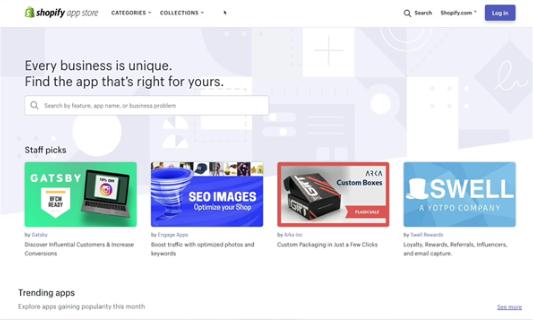 The Shopify App Library houses almost 6,000 apps that you can use to boost your site's potential. With more than 50,000 plugins for you to decide from, WordPress clearly beats its competitor in the race of offering a more extensive range of apps and plugins.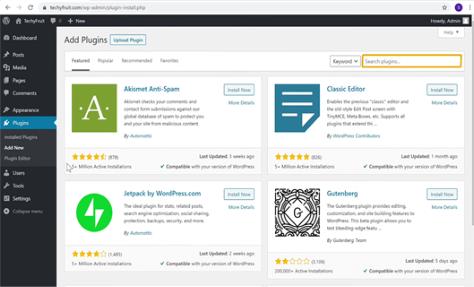 However, it's honest to say that Shopify consumers need far less help from third-party sources than WordPress. This is because Shopify equips many built-in features that WordPress doesn't.
Compatible Payment Gateways
Payment Gateways are extremely important payment facilitators for a virtual business. The most commonly acknowledged payment gateways include PayPal, Stripe, and Amazon Pay.
Thanks to its affiliation with over 100 gateways, Shopify offers a seamless payment facility. The platform also has its separate gateway called Shopify Payments. Meanwhile, if you subscribe with WordPress, you need to use the WooCommerce plugin to set up a payment gateway.
WooCommerce can allow you to utilize more than 70 earning gateways, including its own: WooCommerce Payments.
Themes and Designs
Shopify has 8 free themes on offer and 64 premium ones that can cost you about $150. All of them are sale-ready themes, perfectly optimized for any user device. To input their preferred designs or modifications, users can use Shopify's intuitive theme editor as well.
On the other hand, WordPress has a ton of different themes on offer (more than 8,000 themes), half of which are specially built to support ecommerce functionality. However, WordPress provided themes that were not as simple to handle as Shopify's. For this reason, users will either have to hire a web designer or learn some basic coding if short on budget.
Technical Support
Designing and managing websites for online businesses isn't the easiest thing to do, thus technical support from the manufacturer is important. Fortunately, both the contestants of the Shopify vs. WordPress duel has satisfactory customer support procedures.
Shopify provides all-day customer support via phone, live chat, and email. There's also a widespread network of help centers for user assistance. On the contrary, WordPress users also get the benefit of a technical support network that is as good as Shopify in terms of responding but a little hard to reach.
As WordPress is an open-source solution, depending on different plugins to perform different tasks, users have to fetch support from different platforms. For instance, if you decide to choose WordPress over Shopify, you need to contact the plugin makers in case of an issue rather than contacting WordPress.
Final Word: Shopify Or WordPress
There are a dozen different solutions out there when it comes to setting up ecommerce and the most renowned of them are WordPress and Shopify, so which one to pick? Here's our verdict: If you want to concentrate your efforts on building and expanding a business, use Shopify.
This specially-made-for-commerce solution houses every facility you expect to begin and lift a virtual business.
However, for users who aren't newbies in the realm of ecommerce and know basic coding and management of a CMS, WordPress hosting is for them.
The platform offers great opportunities to those who want to build a website theme on their own. Plus they'll be greeted by a vast selection of plugins too. In the end, the answer to which is better among Shopify and WordPress will draw down to your preferences.
You may also be interested in: