10 Best WYSIWYG Website Builders for Small Business in 2020
Currently, the global market for e-commerce stands a little over $3.5 trillion and is expected to double in the next three years.
However, it is not only an e-commerce owner who needs a website. A 2017 study of small businesses in the US showed that about 70% had a website. Of course, it is less in other parts of the world, but overall the trend remains the same. Small businesses need websites since the internet has mostly replaced yellow pages, newspapers, and other "old" media.
Consider it as a calling card. The small business website acts as a broadcast system that effectively provides information about the type of services and goods offered, price, discounts, promos, and, most importantly, hosts testimonials from past clients.
But in the process of expanding the business and chasing customers, a small business owner doesn't have the time or mindspace to learn how to build website for business purposes.
Fear not for help is at hand. The latest best small business website builders are equipped with WYSIWYG editors. That is a lengthy acronym that stands for "What You See Is What You Get" or an editor that lets you understand the layout of the website and the various pages as you build it.
1.  WordPress
WordPress powers the websites of Verizon and Home Depot and at least fifty other top brands. Needless to say, it has impeccable credentials.
What sets it apart? A full description will run into several pages, and here is a really short gist.
WordPress was launched as a blog platform in the late 90s. Since then, it has been, arguably, the most accessible and powerful website building solution.
Users can pick from hundreds of free and thousands of premium templates to create beautiful websites and use the WYSIWYG editor to customize the look and feel of the website. The HTML editor ensures that anybody with the technical know-how can tweak literally everything with the website design.
WordPress generates clean and consistent code for your website, which enhances SEO. Of course, the built-in basic SEO features help you get started on your web visibility optimization journey. Also, there are over 50,000 plugins, and 11,000 themes make it versatile, user-friendly, and dependable.
Think of WordPress as a community, as you will find all your technical questions answered on the official plus several other 3rd party forums. Frequent backend updates ensure that your website's security and technical robustness remain updated.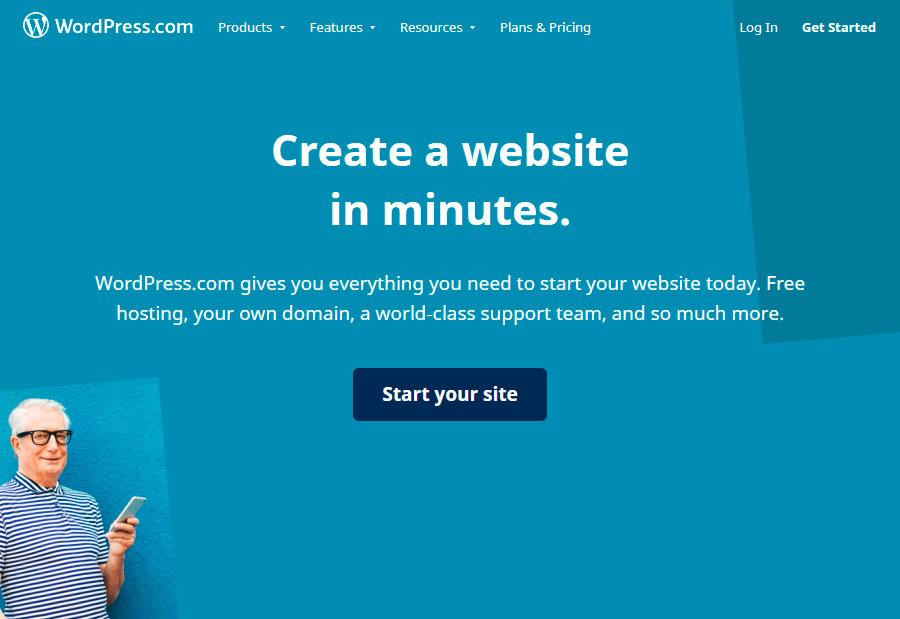 2.  Weebly
Weebly is a free small business website builder based in San Francisco. It boasts of 35 million websites built using its platform. Launched in 2007, its WYSIWYG is matured and polished. In 2018 it was acquired by Square, Inc and remains well known as a platform for small businesses and online stores.
The biggest strength of Weebly is its competitive pricing.
The top tier Business plan is priced at $25 monthly.
In return, you get:
Free domain
Unlimited storage
Payment through third party
Shopping cart
Inventory management software
Coupon codes
And several other features that make it ideal for businesses.
On SEO front it offers:
Fully optimized sites
Contact forms
In-depth metrics
Online commerce stats
These two plans also provide phone support and also the customary chat and email support.
Weebly is a stable platform that is effective and no-fuss.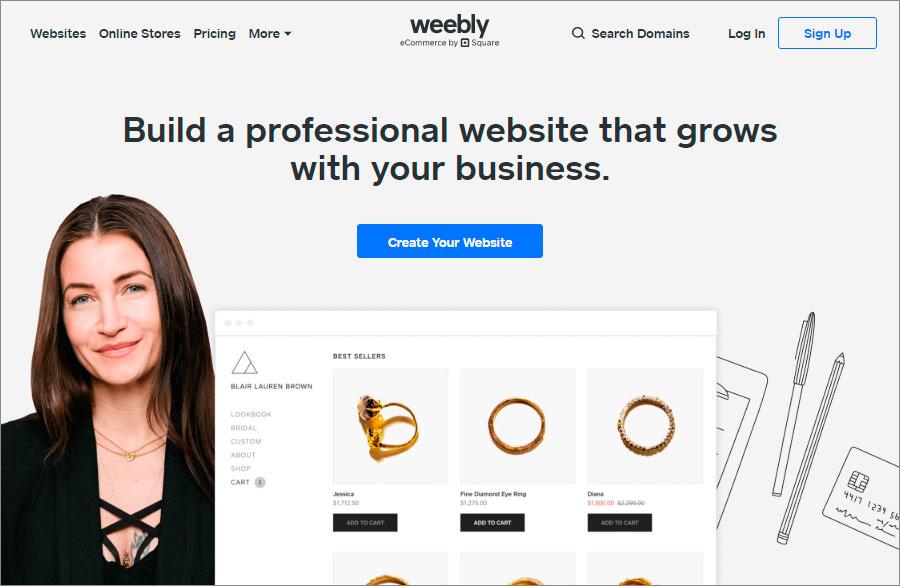 3. Wix
Wix is from Israel and the second largest website builder platform after WordPress. It is a robust and capable platform, with nearly 50 million sites using it.
What are the topmost advantages of Wix?
Over 500 templates, many of which are optimized for small businesses.
Innovative drag and drop editor that lets you design a site that looks exactly the way you want.
Free to use store templates with inventory management and product pages that are ready to deploy.
Personalized email.
Free Analytics and SSL certification.
Wix Premium Plan is priced at $29 per month and includes unlimited bandwidth, 10 GB storage, one-year free domain name subscription, priority support. Other advantages include sleek themes that are well designed and an image library.
If you stop paying, Wix does not remove the site but makes it a part of the Wix subdomain and still keeps all of the content online.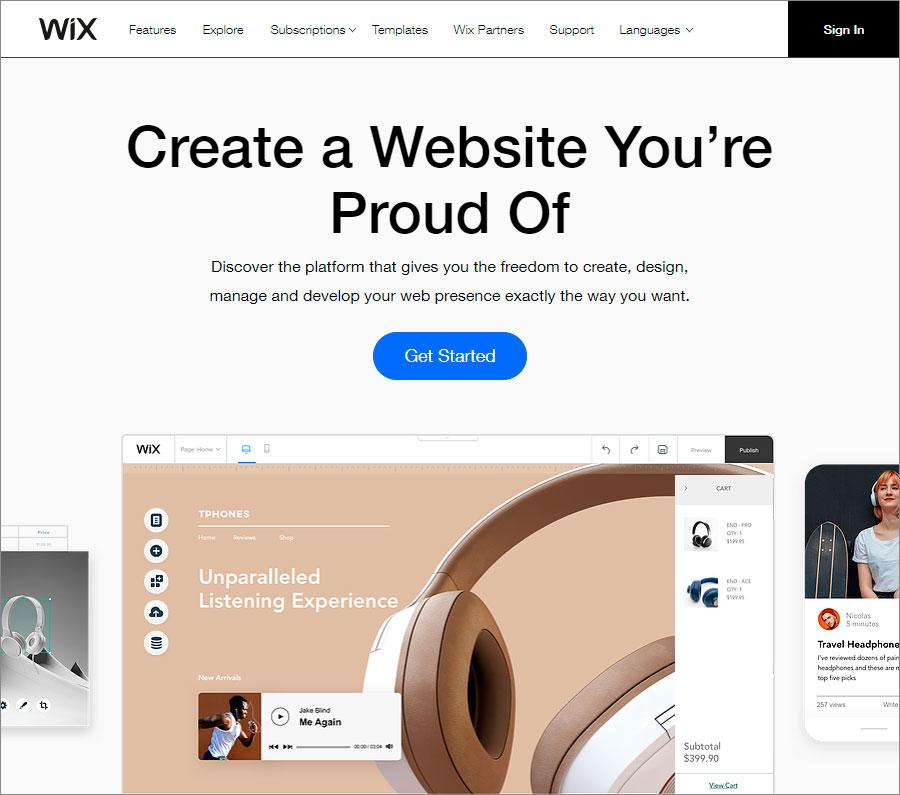 4. Shopify
Shopify from Canada is the best website builder when it comes to e-commerce. You might not have a full-fledged e-commerce business, but you might be doing both.
In that case, setting up a store using Shopify is the easiest thing that you can do.
The primary advantage of Shopify is that it is simple to use in spite of being completely reliable and customizable.
Highly effective landing pages that convert guest visitors to sales in minutes.
It has a massive community of users and an extensive knowledge base.
Excellent customer care sorts out all problems as quickly as possible.
Most advanced e-commerce tracker dashboard that details fast-moving items, revenue, visitors by geographical area.
Shopify is priced between $29 and $299 per month. Even the cheapest plan gets access to 24×7 customer care, abandoned cart recovery, free SSL certification, and support for third-party POS apps.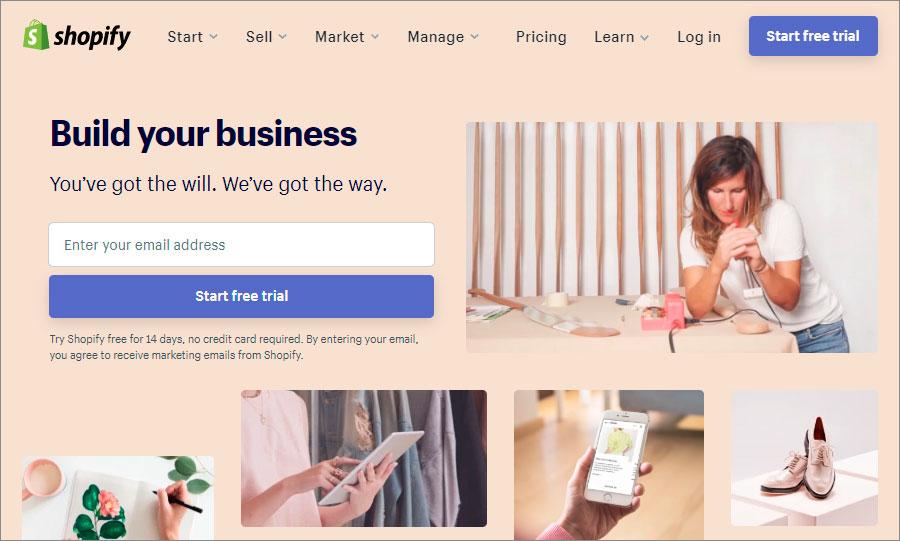 5.  Squarespace
Squarespace has been around for years and gained popularity for stylish business website building.
Its website squarely positions it as something that creatives can use – makeup artists, fashion photographers, and musicians.
Its strongest feature is that it is more visual than text-oriented. It does have support for setting up an online store, but that is quite rudimentary and only works if you have a niche brand.
What does it offer you apart from oodles of style?
A superb blogging feature that is perfect for SEO. Since the main pages do not offer you the possibility of adding a lot of text, the blog is handy. It can schedule posts and integrate well with all of your social media accounts and share the blog content across multiple channels.
Priced quite cheap at $12 for a Personal Plan and $18 for a Business Plan, it offers numerous freebies such as domain name, 24×7 support, advanced analytics, and even a custom email address.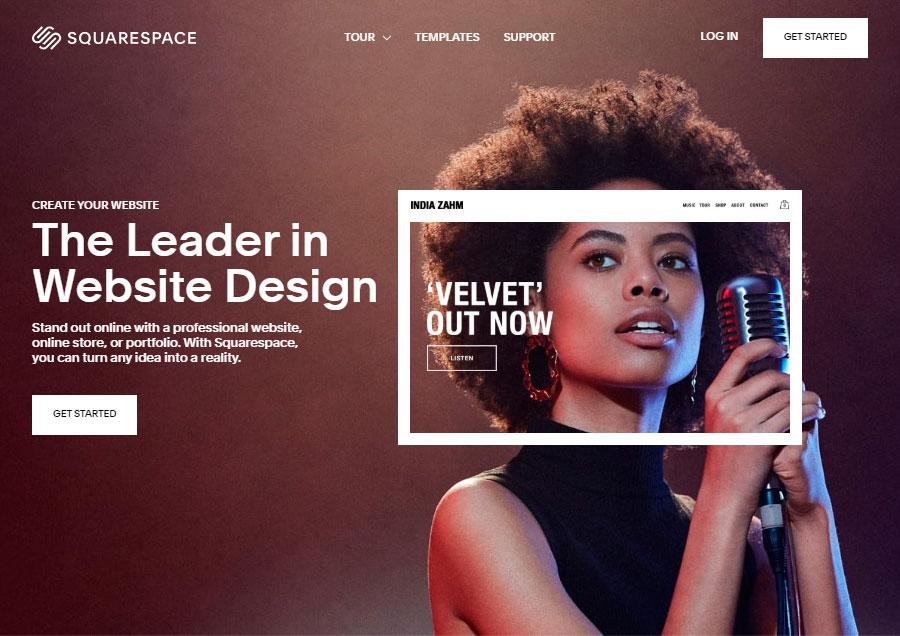 6.  BigCommerce
As the name signifies, BigCommerce is a platform that is dedicated to online retail. Its main advantage is that you can easily create an e-commerce store for small businesses without a lot of headaches.
Ideal for businesses with a few products that are not looking to compete with Amazon or eBay.
Advanced filtering available that allows customers to purchase based on price, manufacturer, colour, material, and several other criteria.
Easy to sort products as New Arrivals, Most Popular, Price Low to High.
The plugins can transform your site to anything you wish – from a full-fledged e-commerce store to a niche boutique.
The Standard Plan costs $30 per month and the Pro $250 per month.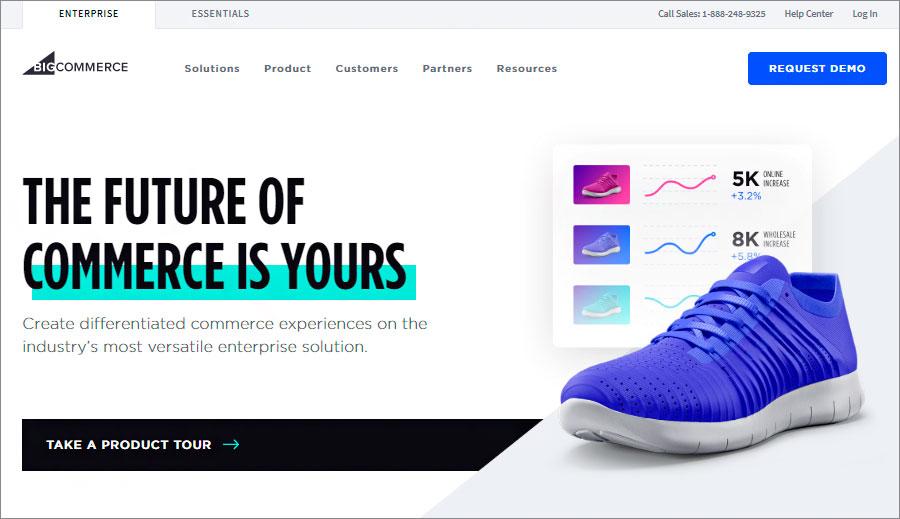 7. GoDaddy Website Builder
GoDaddy is one of the world's largest hosting providers, and their service also comes with an efficient and straightforward WYSIWYG editor.
It is easily a very affordable small business website builder.
GoDaddy is also one of the easiest and completely eliminates the need for coding.
You can tweak the template enough for your own SEO.
More than a hundred fonts are available.
Easy to use and impressive gallery feature.
ADI that designs the site for you with minimum fuss.
Do not expect it to be able to replace Wix, but it does a reasonably good job. It is also free with GoDaddy hosting plans that start at $5.5 for small businesses to $20 for online stores.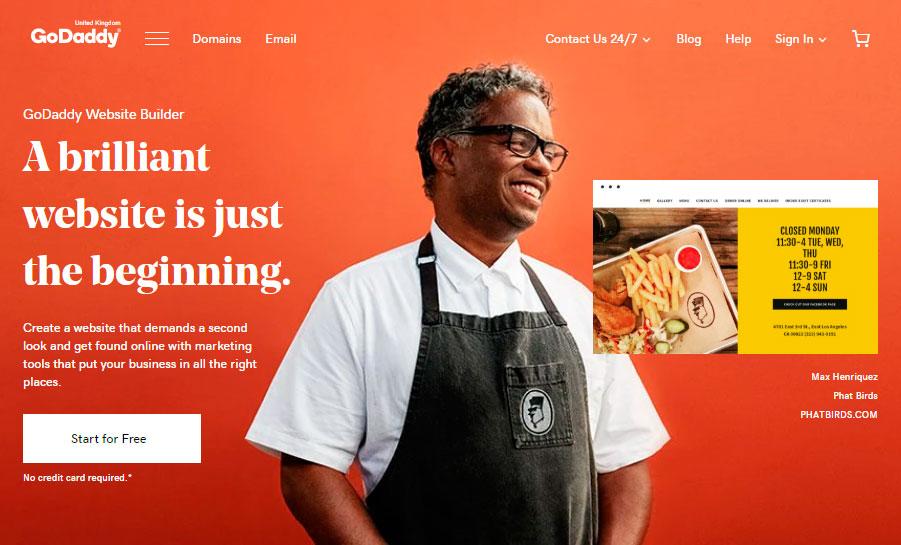 8. WebNode
WebNode can support multilingual sites, and that is a massive advantage in this era of global business.
With over a hundred templates, all of which are optimized for mobile devices, it is ideal if you are looking to set up a small business website with maximum ease. The templates have been created after a great deal of attention to fonts, colour, and images.
Available in 20 different languages
Possible to change check out the cart to local address and pin code as well as local currency support.
Three-level navigation gives your website a detailed layout.
The best part is the price. It starts at an amazingly low $4 per month, and the most expensive Profi Plan costs only $20.
With Profi, you also get a hundred email addresses and abandoned cart recovery as well as priority customer service.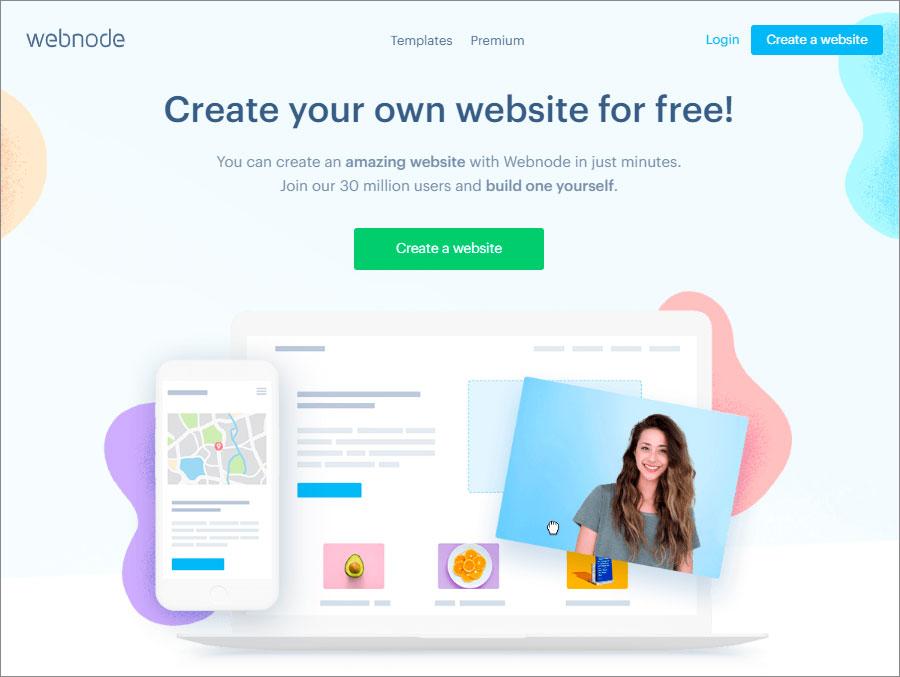 9.  Duda
Relatively new and not even a decade old, Duda claims to host 9 million websites. It is known for its fast page loads and uncluttered appeal.
What are the other benefits of using Duda?
You can use HTML and CSS to develop a site if you don't want to use the WYSIWYG editor. This offers you full flexibility to customize the templates.
A very nifty set of apps and widgets that include MailChimp.
Easy to accept Paypal and integrate several payment gateways.
An inbuilt photo editor allows you to crop and rotate photos, resize them and adjust brightness and contrast.
Supports five languages and ideal for multilingual websites.
You can buy paid plans for $14-55.50 per month. Duda is hosted on Amazon Web Services and guarantees 99.9% uptime.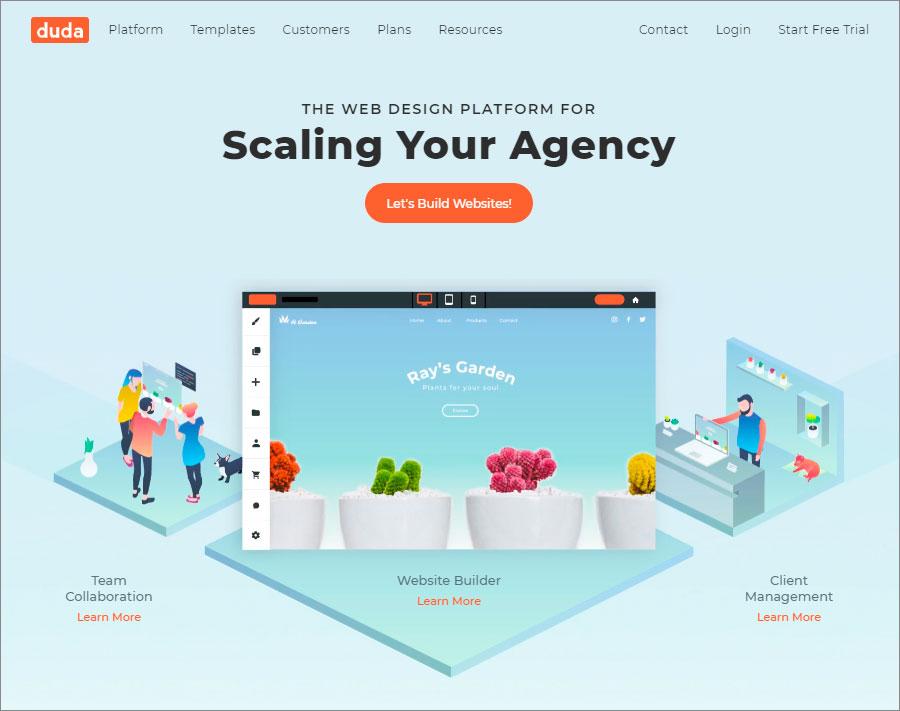 10.  Jimdo
The USP of Jimdo is simplicity. They claim that you can have a simple site up and running in less than an hour.
This is possible using Dolphin, a patented AI-powered tool that asks you about your site and designs it from scratch using your inputs.
It has built-in SEO, and there is no need to hire a web developer.
You can plug in the HTML code of any site and third-party app.
There is a tidy and efficient e-commerce option that includes a full-featured shopping cart, inventory management, ability to generate coupons for discounts.
The Jimdo Blog Tool allows you to add a blog with images and embed videos.
The basic Personal Plan costs $8.5 per month, and the top-rated VIP plan $24 per month.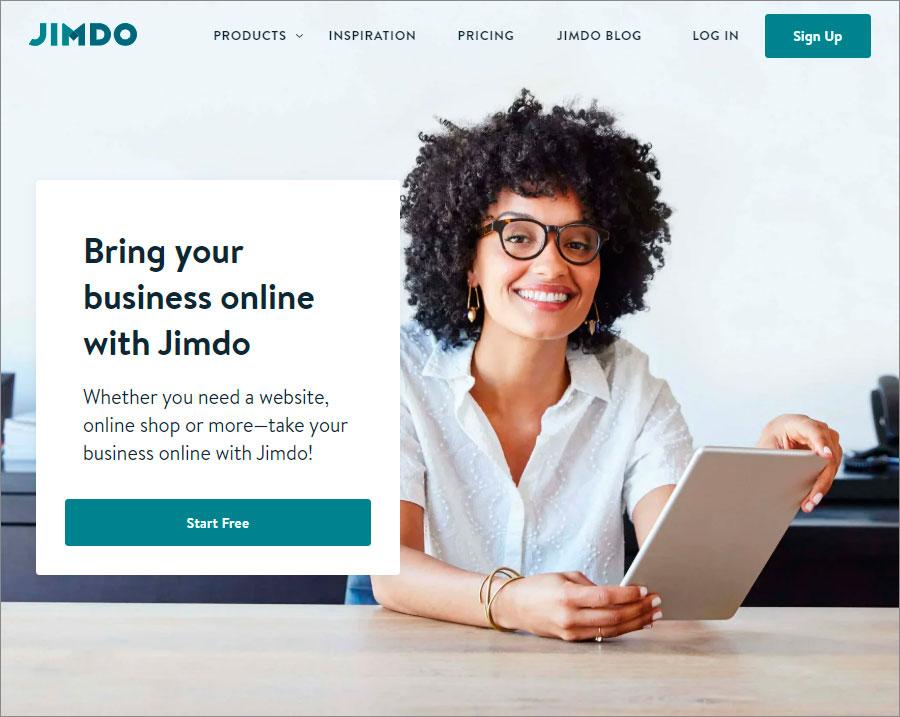 Conclusion
All of these site builders are very adept at creating stunning sites. What really differentiates them is the complexity that you want to take on with WordPress at one extreme and Jimdo at the other.
If you are only interested in a digital footprint, then probably the GoDaddy $5.5 plan would be good enough.
Of course, the more expensive site builders are more capable, first among equals, because you have plenty of ready apps and plugins to use.
You may also be interested in: