Four Ways Influencer Marketing Can Help Online Sales
How do you increase brand awareness and sales? You need to maintain a solid online presence and ensure a comprehensive user experience. That's why online merchants give customer satisfaction techniques their best shot.
They invest in omnichannel marketing, optimize their websites, and create progressive web apps accessible on numerous devices and on the go. This list of Magento PWA examples proves that these undertakings are worthwhile.
One of the tactics to boost your marketing is influencer advertising. Let's explore the influencer types, how such marketing works, and how small enterprises can reap the benefits of collaboration with opinion leaders.
How Does Influencer Marketing Work?
The essence of influencer marketing is pretty simple. You find a person whose numerous followers fall into your target audience. Then you establish a business relationship with them to promote your business to their subscribers in a mutually beneficial way.
For example, you are a small cosmetics store owner. Then find a famous blogger, for instance, on Instagram. Sometimes you don't communicate directly with the influencer but through the manager. You agree on what kind of cooperation you offer:
what brand you represent and which products you sell;
how often and how many times a blogger should talk about your goods;
what you give for cooperation: payment with money, products, or a discount in the store.
The blogger uses your products and demonstrates them in their posts and stories. Take an example of a Chillhouse post showcasing Alec Feldman with 3,200 followers who admire his style. This photo displays his manicure, which he did with Chillhouse press-on nails.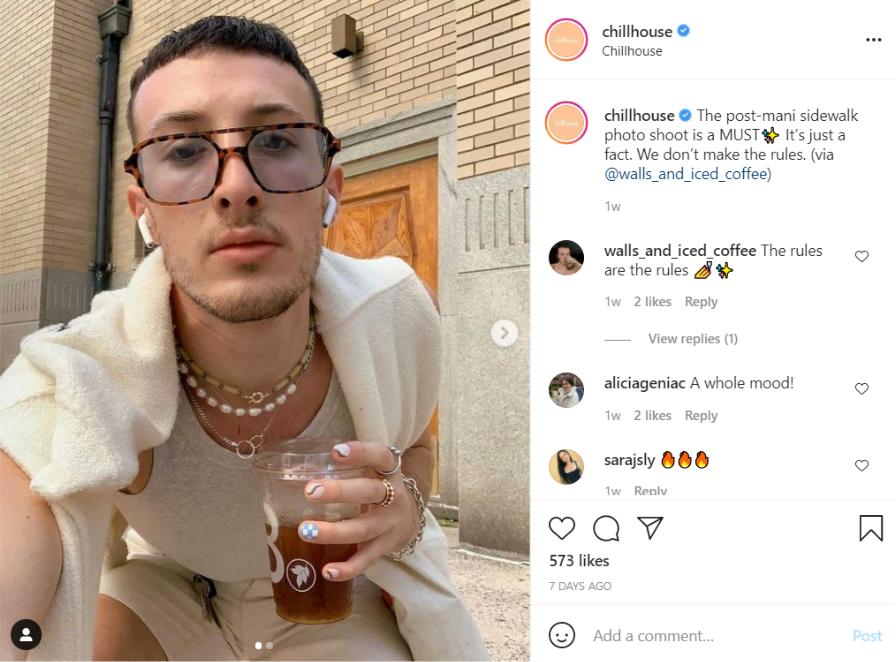 Screenshot taken on the official Chillhouse Instagram account
That's how your product popularization begins. What is the influencer's main asset? The answer is the size of their internet following. Opinion leaders have earned credibility, coupled with subscribers' trust, so you shouldn't miss this opportunity.
What Kind of Influencers Are There?
Celebrities and a few committed bloggers used to dominate the influencer marketing field. Now, anybody has a chance to be an influencer. Do you like shooting videos and performing in front of a camera? You can become an Instagram, TikTok, or YouTube blogger. If you prefer diary-style, choose Twitter as your source.
Influencer marketing is a tried-and-true eCommerce technique that has helped small businesses like Aveeno body lotion increase global sales. How did they achieve it? They partnered with celebrities like Jennifer Aniston.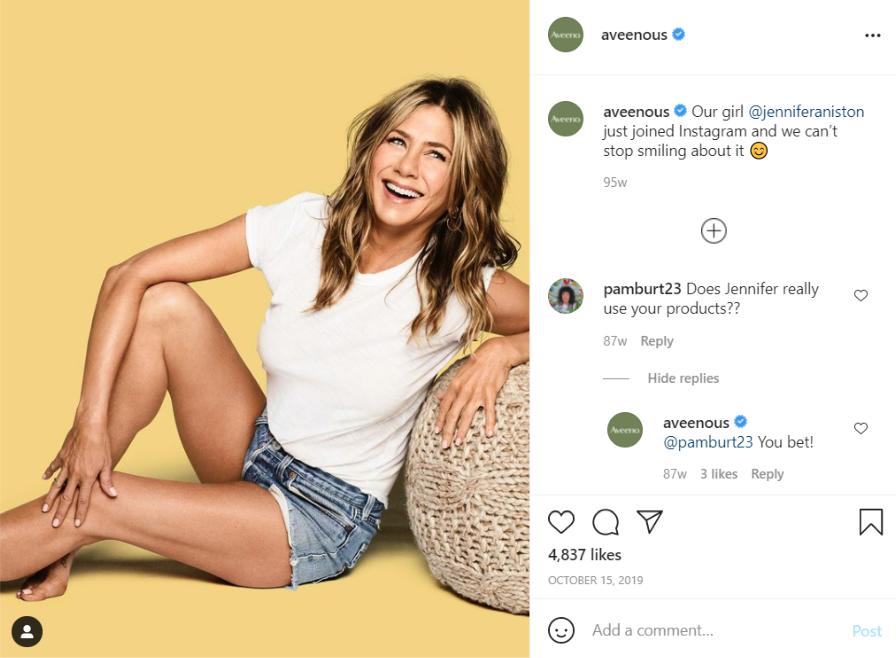 Screenshot taken on the official Aveeno Instagram account
Three Aspects to Choose an Influencer
When choosing an opinion leader, you need to consider three critical factors:
relevance;
reach;
resonance
Relevance is responsible for how well the audience of a famous persona matches your brand.
How do you measure reach? It's the number of followers your brand ambassador has. How do you know it's an influencer? The number of their subscribers should be thousands or tens of thousands. But what if these numbers are fake you ask? Yes, sometimes these numbers can be artificial and don't illustrate the actual state of affairs. To find out, you need to look at engagement metrics for such pages.
And, finally, resonance indicates how loyal the audience of the influencer is. In other words, to what extent they trust him.
Five Major Types of Influencers
Based on the above factors, influencers are split into five main groups: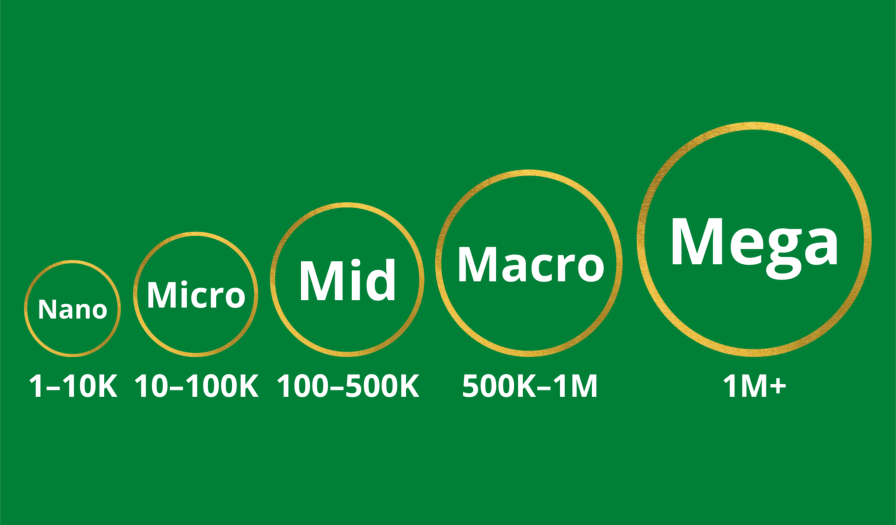 1. Nano-Influencers
They have 1,000 to 10,000 Instagram followers. They can promote products, but it's not their regular business. They have the most engagement from their audience.
2. Micro-Influencers
Such a type of bloggers has 10,000 to 100,000 followers. According to HypeAuditor, micro-influencers account for 47% of all Instagram creators. These bloggers are a little pricier than nano-influencers, but they still offer the same personal, hands-on vibe. As a result, they're a great choice for promoting your company and increasing sales.
3. Mid-Influencers
Their audience is between 100,000 and 500,000 people, comprising 26% of all Instagram bloggers. They lack the one-to-one feel of nano-influencers. But they have a more extensive reach and higher engagement rates than macro- or mega-influencers.
4. Macro-Influencers
They're more famous than the previous groups. Their follower base reaches up to one million people. How have they become so popular? They provide quality content and have the trust of broad demographics.
5. Mega-Influencers
They're the most famous category on the list. These bloggers work with brands more, but they're more expensive than the lower tiers. Their audience's interests are versatile. So, you might not necessarily hit the target if you work with them.
Four Ways Influencer Marketing Can Boost Online Sales
1. Influencer Advertising for Brand Promotion
Bloggers and online merchants collaborate primarily to promote the brand. It's the most prominent and typical application of this marketing tactic. Opinion leaders comment about your brand or items and attach a link to your website or social networks.
Even though posts contain a "Paid partnership" indication, such marketing is successful since it doesn't appear to be an advertisement. Why do people trust bloggers more than direct advertising? Because they naturally include product mentions into their content.
That's good, you might think. But what about measuring the influencer marketing ROI? You can track it by providing special promo codes or using a UTM mark for your opinion leaders' posts.
What's the most profitable content for influencer advertising? According to a Statista poll, Instagram (posts, stories, videos) and YouTube bring the most benefit. Bloggers show your products in real life while directing customers to your page, so they don't get lost along the journey.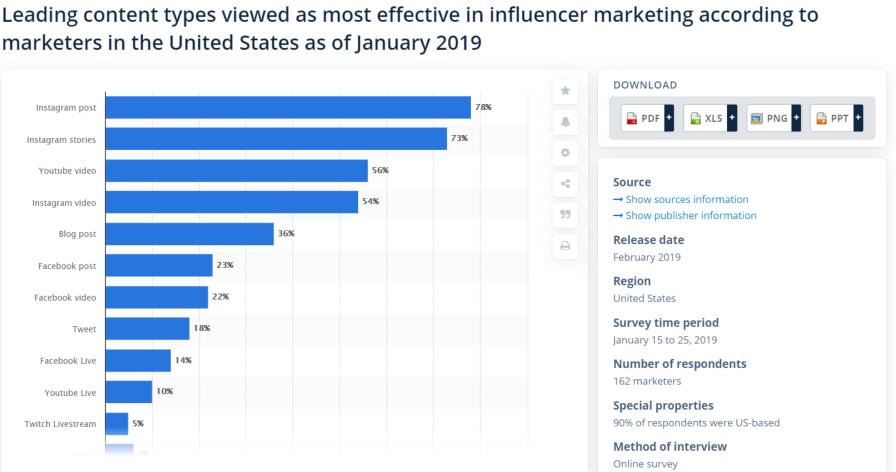 Image credit: Statista
Let's overview a real example. A beauty and fashion guru, Tess Christine, shares her makeup tricks on YouTube. What she's brilliant at is elevating boring old clothes to the next level. She incorporates wardrobe ideas into her OOTWs (outfit of the week) episodes sharing links to the featured goods in the video description below.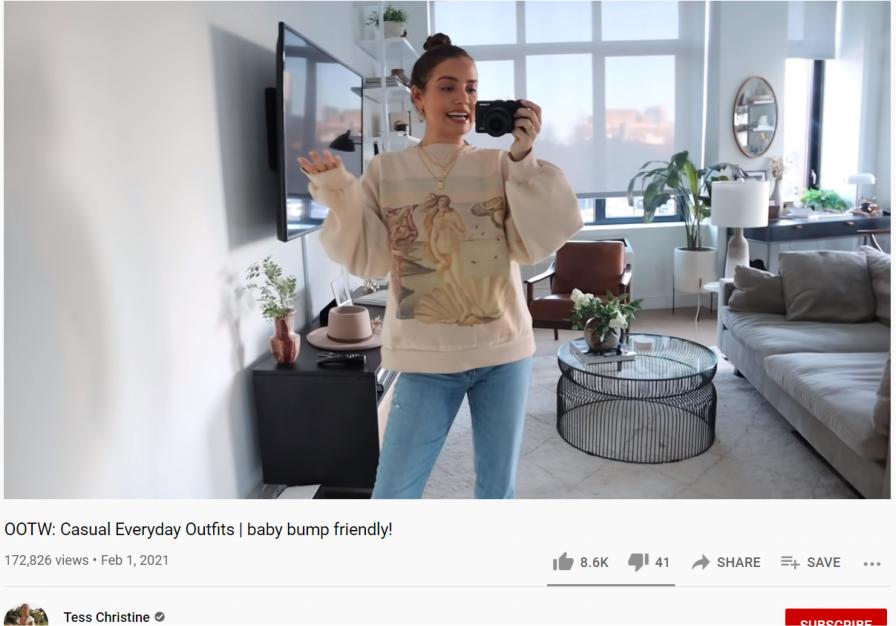 Screenshot taken on Tess Christine's YouTube channel
2. Source of User-Generated Content (UGC)
Do you create appealing pictures and videos all the time? Brands that want to flourish should always remind about themselves. It's because visual material on social media draws leads and keeps an audience engaged. If you don't publish anything, no one will know who you are. But quality and original content require a significant investment of time, money, and effort.
So, why not utilize influencer marketing to get user-generated content? It's unique, natural, and more valuable than stock images or brand photos. You can distribute and store it for as long as you wish.
Bloggers can share photos with your brand on their page. Besides, you may repost them on your social media account.
That's what Ara Shoes do on their Instagram page. Their feed is solid social proof of their product popularity among fashion experts, TV stars, and bloggers. The screenshot below demonstrates one of the posts starring a beauty blogger Lili Rukavina.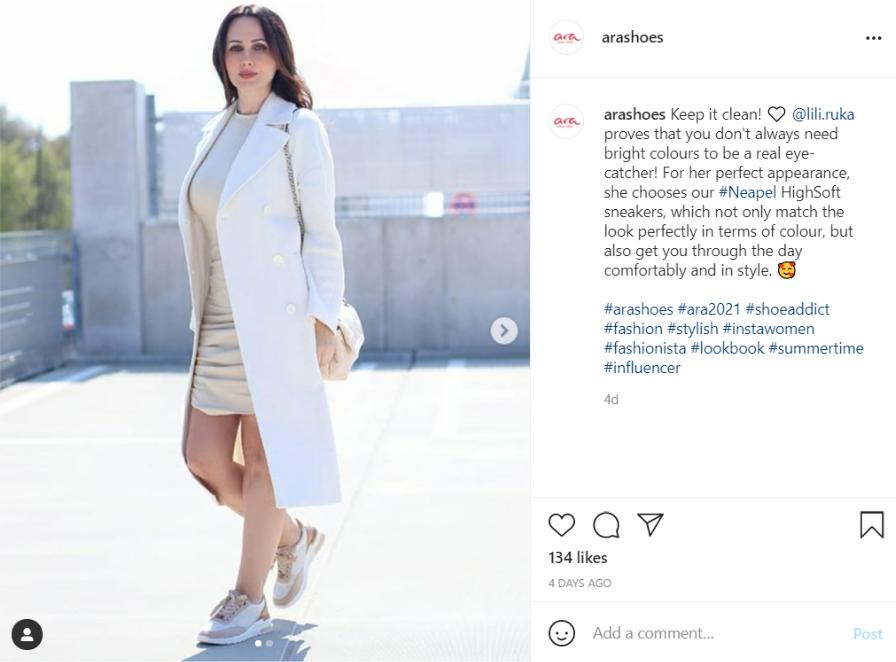 Screenshot taken on the official Ara Shoes Instagram account
3. Share The Opinion
What do you think customers will believe more: a real experience or a product description? Of course, a real-life experience is far more reliable. As a result, brands encourage their customers to leave their feedback, be it reviews on the product page or comments on social media.
However, buyers often don't want to waste time on that. Bloggers can become such clients for you who will deliver feedback on your products or services.
According to Marketing Charts, the most crucial material influencers generate is reviewing goods. Sincere and valuable content can serve as a source of social proof, giving potential customers more confidence in their purchase.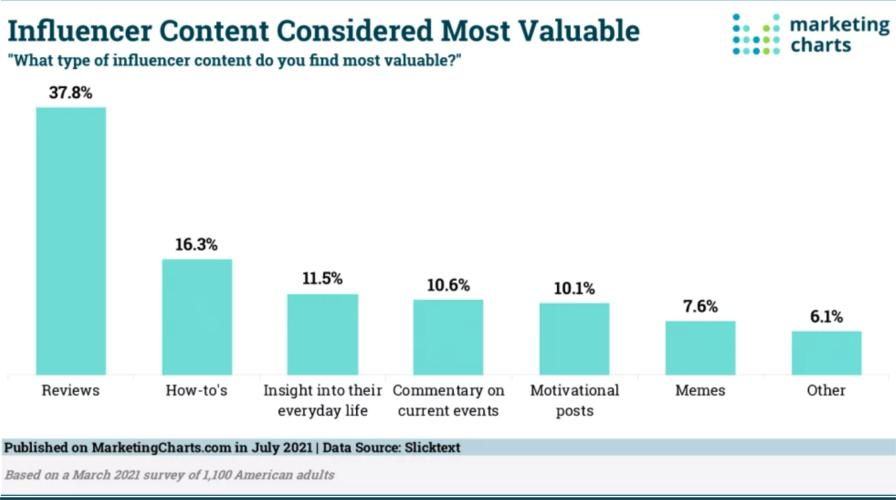 Image credit: Marketing Charts
Note that there's no room for deceiving your audience. Cooperating just for the sake of positive feedback will harm your and the blogger's reputation.
The 18-million YouTube vlog, Unbox Therapy, has gained popularity thanks to its unboxing videos. He not only reviews the most cutting-edge technology but does it engagingly. He studies the product in detail and tests its features to learn hidden secrets, hints, and techniques. And it resonates with the YouTube audience.
For example, his OnePlus Nord 2 unboxing review has amassed over a million views in two weeks. Besides, he launched a giveaway to draw extra attention to the brand.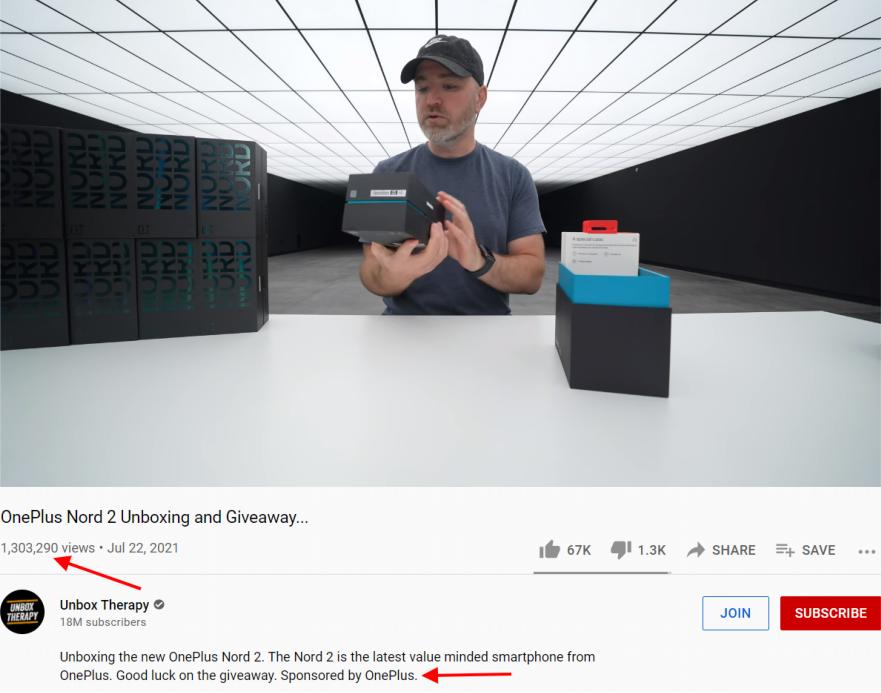 Screenshot taken on the official Unbox Therapy YouTube channel
4. Discounts to Attract the Target Audience
Each platform has its characteristics and people. Instagram users, for example, are primarily youthful and active persons between the ages of 25 and 34. If you address younger viewers under the age of 20, TikTok should be your choice.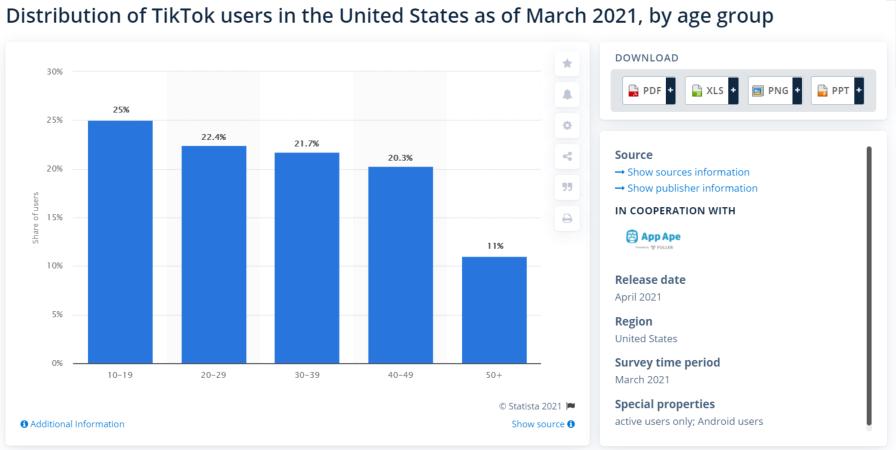 Image credit: Statista
You might think that working with influencers is only suitable for big brands. But that's not as it seems. They assist startups and small companies in finding their end-users as well.
How can entrepreneurs benefit from influencer advertising? As you know, you can't know for sure which audience will like your products more at the initial stage. So, experiment with different bloggers. And then analyze whose audiences are more responsive.
How can you track it and improve sales? Provide special promotional codes that allow customers to save money on their purchases. Viewers will have the option of not only listening to the influencer's advice but also purchasing the product at a reduced price. You receive a double benefit:
a boost in sales:
and data of how much traffic and conversions the blogger is responsible for.
The use of this code is also beneficial for opinion leaders. How can they make money on this? For example, you may offer them a bonus based on the percentage of their sales. It'll encourage them to attract as many buyers as possible.
Another way to increase sales with the help of an influencer is to run a joint giveaway. It'll increase your social media engagement, improve brand recognition, and drive more prospects to your page. See Ali, aka Little Red Fashionhood, doing it. She teamed up with Contours Baby to give away Contours Oasis cushion tubs.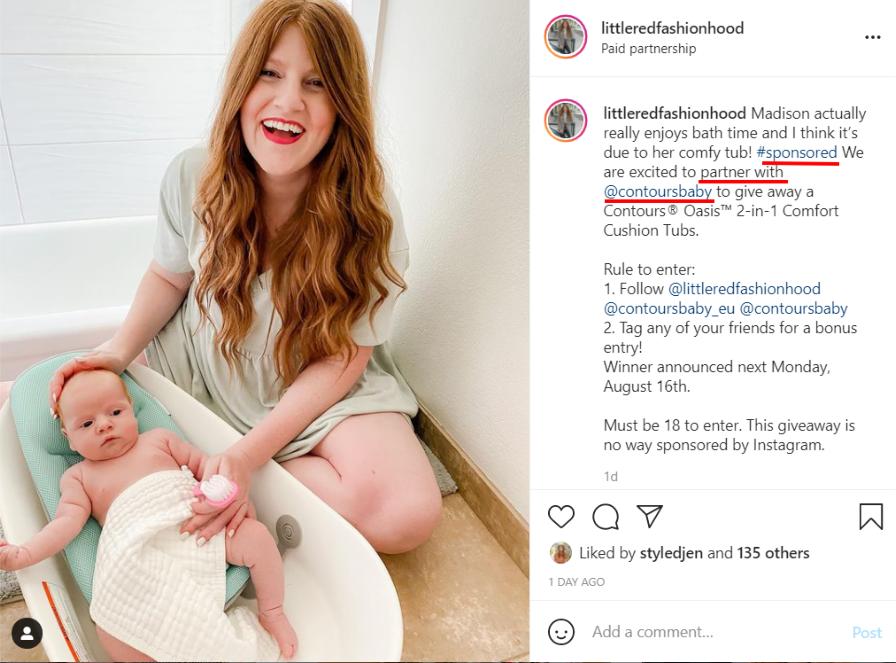 Screenshot taken on the official Little Red Fashionhood Instagram account
Conclusion
Social media popularity affected all aspects of life. Business is no exception in this regard. How can you employ social media to attract a high number of targeted clients? Make use of influencer advertising and track the efficiency of this marketing strategy. Urge bloggers to promote and sell your products or services, and you'll receive mutual benefits.
—
About the Author
Kate Parish is the chief marketing officer at Onilab with over 8 years of experience in Digital Marketing in the sphere of eCommerce web development. Kate always aspires to broaden her competency in line with cutting-edge global trends. Her primary areas of professional interest include SEO, branding, PPC, SMM, Magento PWA development, and online retail in general.
You may also be interested in: